'The winter has finished, the pre-season tour is done with, and like clock work the first day of the new cricket season rolls around. The forecast says rain. All, except the incredibly hungover, are hoping otherwise.
It's just a shower, just enough to make most decks a little dodgy. That's not important, the game is on. Factors like pitch condition have no bearing on the toss. The captain surveys his team and has to work out if his team is yet capable of fielding.
The first ball is bowled. Willow and leather collide, and we're off. The season has started.'
I'm sure that this is a fairly typical start to the season for most club cricketers around the country, and it's certainly been typical of
Blackheath CC Mighty 8's
for the past 3 or 4 seasons.
There are many traditions associated with the summer and cricket, and being the country's summer sport, these two are entwined. With the first game come other traditions, and maybe these are more akin to the Mighty 8's but I'd imagine they are still pretty common-
Pre-game net-
Usually two KFC* players turn up early for throw downs. Usually joined an hour or so later by much more hungover team mates. Eventually kicked out by the 1st team who then don't use the net.
Getting lost en route to the game-
You've got the post code, you've played there before. The sat nav takes you the wrong way. So after screeching out of the club looking like the big dicks, you turn up last. Nice one TomTom.
Stretching-
Time ravages all. This is certainly the case with club cricketers. In the old days jug penalties were issued for excessive stretching. Now its required or most of the team seize up after 15 overs.
Shitting-
At least one player will attempt to block the chodbin. In any case they will stink the khazi out.
Bowling a dodgy over-
At least one bowler needs the yips. In our team, this responsibility was nobly accepted by our skipper. He'd already launched the odd grenade in his previous four overs, but as any cricketer knows you're allowed a loosener. This over was, if nothing else, unplayable. It lasted 14 deliveries, or 2.33 overs. It encapsulated several wides, at least one no ball, a wicket, and the filthiest dot ball ever seen on the strip, or in this case just off of it. Well done for the batsman for tapping that back, you saved us a run. It's always important to back your bowler, especially if it's your captain. Laughing does not count as 'backing'. Despite this over the skipper still only went for 22 runs of 5 overs.
This wasn't that over, but serves as a reminder that the yips can strike anyone.
Dropping Catches-
We only dropped 2 in our game. Luckily we still won. One of the other Blackheath teams dropped 9, they lost. There's a saying in cricket that describes this perfectly- 'Matches are not a toy', or something like that.
Getting a duck-
Everyone gets one. No one likes them, no one likes them consecutively. Chin up Tommy.
Batting collapse-
Every team has them from time to time. The 8's like to have them nearly every game. Keeps it interesting.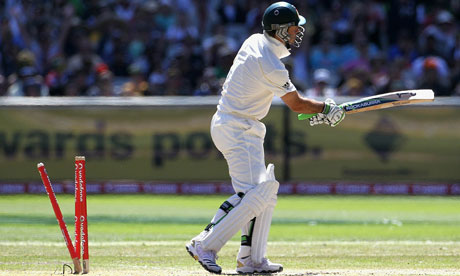 Controversy-
A grounded catch claimed anyway, a triggered lbw, or in this case failure to walk after edging to the keeper. All make up the rich tapestry that dictates sportsmanship in cricket. In this case a 15 year old lad didn't walk, he wasn't sure if he'd hit it. The oppo's umpire did not give him out. Their planetoid, slow witted (and possibly pirate, judging by the earring) wicket keeper took exception to this. He attempted to make himself feel better by shouting, swearing, and generally being intimidating towards the 15 year old child. Probably over compensating for something. The 15 year old went onto to get a 50 and win us the game. Karma's a bitch, and your umpire is deaf.
Annoying the oppo-
The above incident aside, the Mighty 8's are quite a boisterous side. So during our innings our captain sat on the boundary blaring out as much of Superman as his lungs could manage on the team bugle every time a batsman hit a boundary, or got out. Before the above incident it was a minor irritant. Afterwards a direct needle as we triumphantly rubbed their noses in it. Our opening batsman also bemoaned the lack of skill displayed by the oppo's bowlers. 'Next week in nets I want someone to bowl shit at me. We're getting dobbled out by shit', this within earshot of non playing team mates of the oppo. Even myself, within ear shot of their deep fielders, 'that chap at square leg is trying to be a nice guy, but he's a pecker'.
Winning the game-
not really a strong tradition, to be honest.
Looking at team porn-
the after game practice whilst waiting for everyone to get changed and hand over their subs. This month, Razzle. Next month, probably Razzle.
Honking at birds on the way home
- Whether the driver likes it or not at least one woman must be honked at. Preferably not when her boyfriends is around, near a traffic jam or lights. Thank you central locking.
Blackheath Tea Party-
If you're fortunate enough to get a swiss roll in your tea then it's customary to save it for the club. A camera then follows it around whilst everyone takes a massive bite until it's finished. Fun, but a choking hazard.
Drinking heavily back at the club-
After swapping stories of 'should have, would have, could have' and laughing at which umpires triggered who, everyone gets pissed, or goes home. Sometimes there's darts, sometimes there's pool, sometimes there's a jug tower, it's always fun.
Repeat every week of the season, and then a few more at the end for the friendlies.
There we have it. Summer cricketing traditions, as experienced at the drinking end of club cricket.
*KFC: Keen for cricket/cock (delete as applicable)